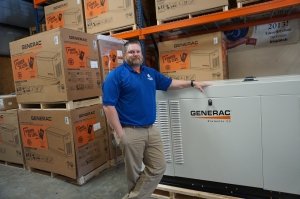 Before coming to C.M. Mose 4 years ago, Sean owned his own business and had been in the electrical field for 21 years. He's always enjoyed working with his hands but found he did not necessarily like owning his own business. So when the opportunity came to join C.M. Mose, he jumped at the chance. He views working at C.M. Mose as a benefit to him and his family.
Sean and his family are from the Lee Summit Area, and he and his wife have two children. Sean loves the challenge and diversity of electrical work. Every day is something different. He likes the fact that his mind is always working. Electrical work is not easy. Sean's first electrical project was at age 12. He recounted that having a stereo was a huge deal, and his mother wouldn't indulge his need to have one in his room. So Sean got car stereo equipment and car batteries and built a stereo for his room.
Sean believes that electrical work is an excellent option for other young people. He ascertains that everyone will always need electrical work, and he thinks it's a long-lasting profession. His father ran a printing press growing up, and Sean always thought that printing might become obsolete at some point. The year was 2000.
Electrical needs in the U.S are abundant
Sean believes an electrical profession is a good choice for many young men and women as electrical needs will always be abundant. "We will never have wireless electrical. There will always be a need for a wire from one source to another. And it won't matter if the energy is coming from wind or solar or coal." Sean says it won't matter. You bring energy and electricity to things through copper wires.
If a young man or woman is interested in pursuing a profession in electrical, all they need to do is apply. They need to express an interest.
Sean believes it's essential to experience doing electrical work first to determine if this is something you're interested in before going to trade school. CM Mose is always looking for responsible, curious young people to introduce to the electrical profession. Now is the best time to get into the electrical trade. Starting pay is excellent. Sean believes electrical work is a good choice for many young men and women. It certainly was for him.
Call or contact C.M. Mose for all your Generator service and installation needs.